TEMPLE

TERRACE


(Hillsborough County)
EARLY FLORIDA GOLFING COMMUNITY
Temple Terrace is a suburb northeast of downtown Tampa off West Busch Boulevard. TURN LEFT (north) on GLEN ARVEN from Bullard (Busch) between the golf course and Florida College, a private school utilizing the original resort buildings
Temple Terrace was one of the first golfing communities established in the United States and became an example for many later Florida developments. Most of the area was part of "Riverhills", an exclusive 19,000 acre game preserve owned by Chicago socialist Bertha Palmer (Mrs. Potter Palmer). She died before her ideas to develop the area started.


Local leaders Maud and Cody Fowler, D. Collins Gillett, and Vance Helm formed in 1920 Temple Terrace Estates as a golf and residential community and Temple Terraces, a 5,000 acre Temple orange grove, the largest citrus nursery in Florida. The philosophy of early Temple Terrace was to attract golfing Northerners who would purchase one of the Mediterranean Revival villas which included membership in the golf club. Others would stay in the hotel.
---
On your right two blocks is the: (1) MOROCCO CLUB (1925), 115 N. Glen Arven, now a Florida Student Center, but once a night spot and then City Hall. PARK here to visit the circular lobby leading to a Mediterranean street scene complete with fish pond. Next door was the three story (2) SITE OF TEMPLE TERRACE APARTMENTS (1926) once housing golfers, later the main dorm when a college took over the complex.
<![if !vml]>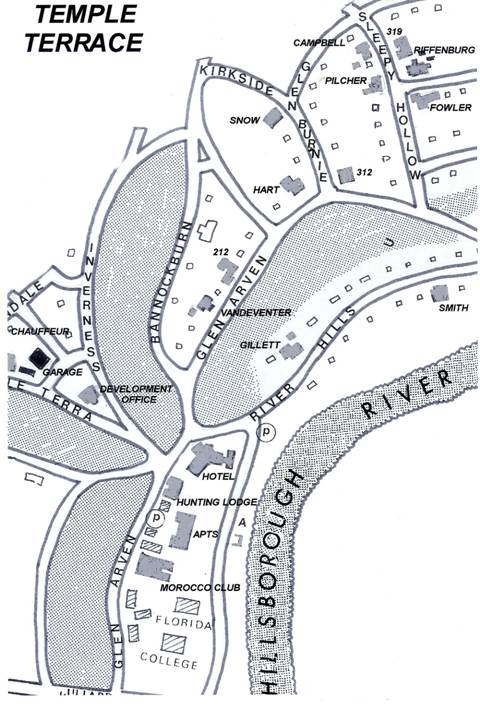 <![endif]>
---
Drive north past 121 Glen Arven, the (3) OLD HUNTING LODGE (1910), once used by Potter guests and oldest structure in area. TURN RIGHT AT RIVER HILLS DRIVE in front of the Y-shaped (4) TEMPLE TERRACE HOTEL (1923), the showplace design of Tampan M. Leo Elliott. It was called SUTTON HALL when used as a dorm. You may PARK here and walk along the banks of the Hillsborough River where Reverend Billy Graham, as a Trinity College student, selected the ministry for his career.
---
<![if !vml]>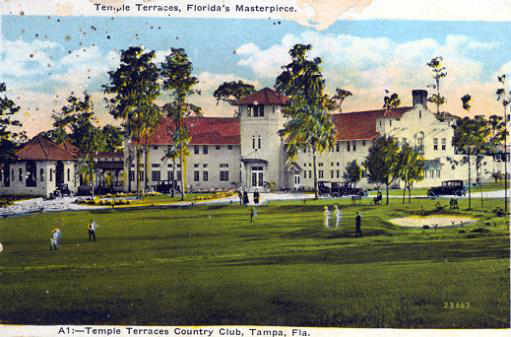 <![endif]>CONTINUE NORTH to 914 River Hills, the (5) SITE OF THE D. COLLINS GILLETT HOUSE (1923), a two story Revival with three bay windows designed by Leo Elliott.. As the town's first mayor, Gillett named the community in honor of the nearby orange groves of his father M. E. Gillett. Sadly, the lot was so large, it became two large modern residences.
Five houses up on the right at 937 Riverhills is the: (6) G. SEAGER SMITH HOUSE (1928) with its original gable. TURN LEFT ON GLEN ARVEN and then RIGHT ON SLEEPY HOLLOW.
---
At the top of the hill at 313 Sleepy Hollow is the impressive complex of the (7) CODY FOWLER HOUSE (1925), pioneer developer and President of the American Bar Association. He sold the house to his mother Maude Fowler, City Vice Mayor, for whom Fowler Avenue is named. The Mediterranean estate has 5,107 square feet and another 2,000 square feet in a guest cottage.
---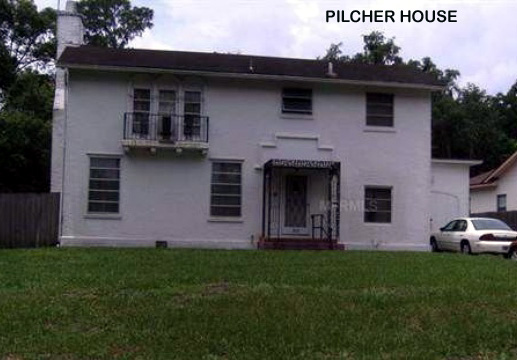 <![if !vml]>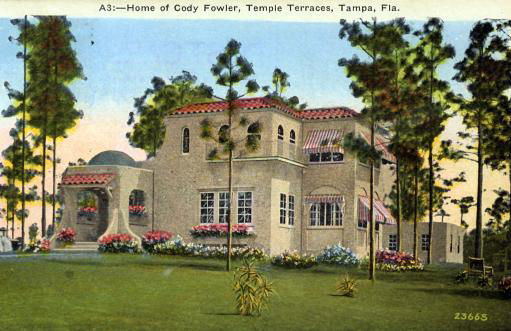 <![endif]>
Across the street at 318 Sleepy Hollow is the: (8) EMMA PILCHER HOUSE (1924), one of the original Bing & Bing designs with Spanish tiled roofing. At 317 Sleepy Hollow is the (9) FREDERICK RIFFENBURG HOUSE (1926), an unusual stone and coquina structure.
At (10) 319 SLEEPY HOLLOW (1924) is the popular Mission parapet design of the Florida Land Boom. The adobe look at 322 Sleepy Hollow (1927), the (11) M. G. CAMPBELL HOUSE, reflected Campbell's hospital stay for TB in Mexico.
---
TURN LEFT DOWN GLEN BURNIE to the (12) GEORGE V. BOOKER HOUSE (1925), at 310 Glen Burnie, a fine Mission Revival house with a tri-portal front facade.
DRIVE LEFT DOWN GLEN ARVEN past the typical Bing & Bing house at (13) 312 GLEN ARVEN. Because purchase of these houses meant membership in the Temple Terrace Golf Course, the houses were built with small kitchens and dining rooms, a problem corrected by most later residents by adding rooms and more rooms. The (14) CHARLES M. HART HOUSE (1924), 306 Glen Arven, is a total contrast with its Turkish dome and Moorish style.
---
TURN RIGHT ON GLEN ARVEN and drive to (15) 212 GLEN ARVEN, home of Burt Hamner, President of Temple Terrace Estates. Note the original casement windows and clay tile entrance steps! Later Maude Fowler lived here. Nearby is the (16) REVEREND J. M. VANDEVENTER HOUSE (1923), 208 Glen Arven, the oldest non-Bing & Bing house in tract. Besides being a local minister, he served as city clerk and three other city posts.
---
<![if !vml]>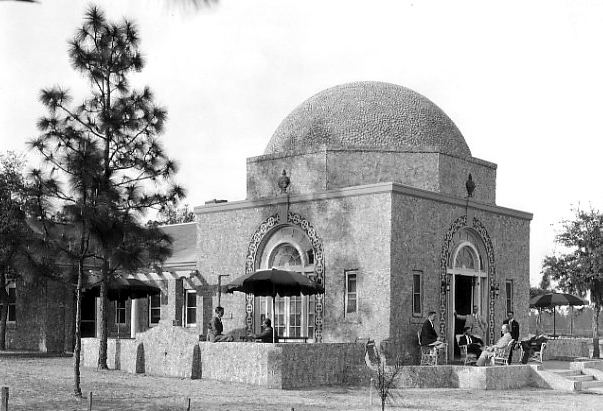 <![endif]>RETURN TO RIVER HILLS and TURN RIGHT ON BELLE TERRE, the final area of the tour. At the apex at 210 Inverness is the (17) TEMPLE TERRACE DEVELOPMENT OFFICE (1922), a strange Turkish Revival structure better known to locals since 1948 as the community church. The city got the building for a huge price of $60. Other Temple Terrace Estates properties include the (18) COUNTRY CLUB GARAGE (1926) and the (19) SUPPLY BUILDING, and the (20) CHAUFFEUR HOUSE (1922), 408 Belle Terre Avenue, a two story Mission Revival edifice originally designed as a dorm for employees and the chauffeurs of wealthy hotel guests.
<![if !vml]>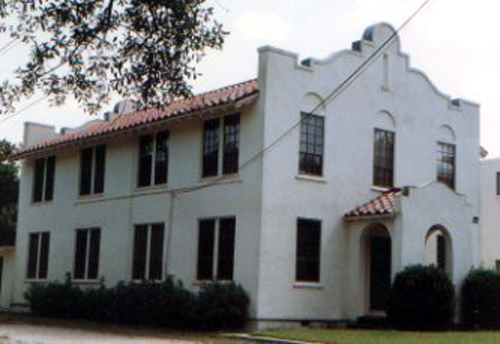 <![endif]>
RETURN TO BULLARD PARKWAY or STOP OFF AT THE FLORIDA COLLEGE CAMPUS for a casual walk around the delightful grounds, particularly along the restful Hillsborough River.

The Temple Terrace Library on Bullard Parkway, just east of downtown Temple Terrace, has a book listing all historic buildings in the area.

U